Quest for efficient fuel burning has always been every engineer's dream. Be it any fuel. Coal, kerosene, gasoline or wood. Traditional fireplaces burned wood to get heat. But this was not a very efficient method because it had no sophistication of controlling the fresh air draft. Wood stoves were designed to make old-style fireplaces more efficient. They had manual control, kind of accelerator in automobiles, to increase or decrease the fire. Thermometers added more means of monitoring, whether wood stoves are burning the wood efficiently or not. Moreover, wood stove fans coupled with thermometers made wood stoves even more efficient and ideal for large homes.
But even with these accessories, there are huge ashes and creosote in the chimney and stove itself. Any unburned fuel or left our mass is indication of inefficient heating and hence loss.
This pushed the efforts to make stoves even more effective with the help of electricity in the form of 'Pellet Stoves'. The name 'Pellet Stove' comes from the type of fuel the use. Wood stoves use lumps of wood readily found in the garden or forest. But pellet stoves use fine wood dust or pellets of wood as fuel. They may be specially cut or waste wood of sawmills. Usually they are compressed from leftover wood of wood processing industry. The wood dust is dried and compressed into desired shape. The cylindrical wood pellets are most popular type of fuel for pellet stoves.
Typical construction of pellet stoves
Pellet stoves have pellet holders, also called hoppers. With larger hoppers, stoves can run for long time and reducing the rate of reloading. The stove has internal thermostat which sense the temperature of fire chamber. The device that transfers the pellets into the chamber is called auger. Based on the feedback of sensor, wood pellets are fed into the chamber. The pellets fall in the burn chamber where they enter into fire and burn. The ash tray exactly below the burn chamber hold the ash, which needs to be cleaned periodically.
Most pellet stoves have in-built fans. The fans push cold air from room through the heat exchanger in contact with fire or around the chamber and deliver hot air into the room.
For the initial start, there are multiple options. A fire gel can be applied over the wood pellets and igniting it with lighter. Stoves can also have in built ignition system that makes a spark for ignition.
It is mis-conception that pellet stoves do not need chimneys. Burning of pellets produces harmful gases, that can harm the people in house if inhaled. Thus, pellet stoves come with chimneys to exhaust smoke outside the house. These chimneys are smaller in diameter compared to wood stoves and require less maintenance and cleaning.  Many pellet stoves offer active smoke extraction system. These systems have blower that sucks smoke and delivers it outside the home. In these type of pellet stoves, chimneys can be avoided or existing chimneys can be used.
Many electronic features increase the sophistication of pellet stoves. These include automatic timers for augers and fans, fan speed controls, adjustable settings for desired temperature, remote control for settings etc.
There are two types of augers, namely top feed and bottom feed. Top feed is the most common type and avoids the risk of pellets burning in the hopper. But ash can build in the fire chamber and may dampen it. This arrangement requires frequent cleaning of grates. Bottom feed augers push the ash sideways and make them fall into ash trays.
Advantages of pellet stoves
Efficiency
There are many advantages of pellet stoves over traditional fireplaces and their rival wood stoves.
The biggest advantage of pellet stoves is that they are highly efficient. They produce less smoke and ash compared to wood stoves. Risk of creosote is also less as compared to wood stoves. Many manufacturers claim to have efficiency of above 70%.
Maintenance and ease of operation
Ease of operation is top most reason why buyers are attracted towards pellet stove.
These are less messy compared to wood stoves and do not need hassle of constant checking.
The operation is fairly easy with little manual intervention. If fans are used, the rate of air induction for fire burning can be controlled by fans, either automatically or manually. Similarly, the hot air fan can also be controlled for required air flow rates.
Since the smoke is cleaner than the smoke of wood stoves, maintenance and cleaning is relatively less. Since hoppers can hold large number of pellets, frequent reloading is avoided.
Initial Cost
The initial cost is comparable to traditional wood stoves or electric heaters.
Construction and installation
The installation varies from product to product. But pellet stoves are quite simple to install.
They do not need chimney for flue gases. Which allows it to install anywhere in the house. Their surface temperatures are relatively lesser compared to wood stoves, which permits it to be installed close to walls and windows, without concerning about fire hazards.
Storage of pellets
Pellets usually come in plastic bags and therefore their storage is fairly easy and simple compared to inventory of wood logs. Wood logs are commonly stored in open air which is not ideal for clean burning. Though, rarely used, storage of it is major concern from quality and safety perspective.
Cons
Pellets
The fuel, pellets, from which 'pellet stoves' got their name can be a reason for not using pellet stoves. This is simply because, if wood is easily available from nearby forests, then wood stoves are the easiest choice. Pellets are costlier compared to freely available wood. In many areas, pellets are difficult to get. Shortage of wood powder, from which pellets are made, can also cause shortage of pellets.
Reliance on electricity
This is major dis-advantage as many components in pellet stoves use electricity. This includes fans and blowers, pellet feeding system, auto ignition system if any etc. This problem can be overcome by the use of backup systems.
Commercially Available Pellet Stoves on Internet
Serenity Wood Pellet Stove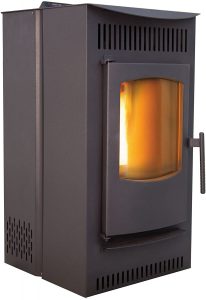 This is very attractive pellet stove, which provide up to 32000 BTUs of heat output.
Ease of installation, programmable control, ease of operation and high efficiency are some of its features. It has adjustable thermostat which controls the feeding rate of pellets. There is in-built fan that can be controlled by programmable controller.
Auto ignition is one of the other features which avoids hassle of manual ignition. The auto ignition consumes 400 W of power.
The unit is quite compact with operating Wattage of 77 Watts (W), Voltage 120 Volts (V) and Greater than 69.8% thermal efficiency. It can heat up to 1500 square feet floor space.
The reviews are great and users are quite satisfied with the performance of this device. One user feels that the hopper capacity of only '40 lb' is its weak point.
Pleasant Hearth Pellet Stove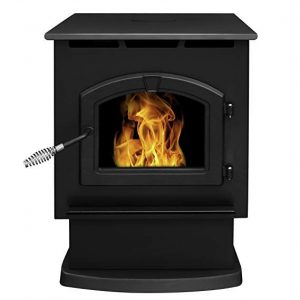 This is 35000 BTU pellet stove, suitable to heat an area of up to 1750 sq. ft. Cost wise, it is comparable or slightly cheaper than Serenity Pellet Stove of same capacity. The company claims that the stove has EPA certified 85% efficiency. This is higher compared to Serenity Pellet Stove. Many users on Amazon have negative reviews of this product. The main reason being inoperative electronic system. One user wrote that auto ignition system just did not work. Some also experienced problems with customer support.
Comfortbilt Pellet Stove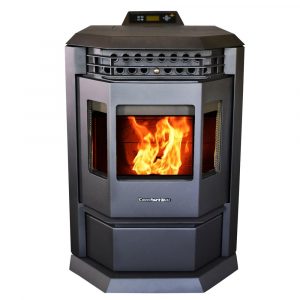 This is a larger stove with 50,000 BTU capacity with 55 lb hopper size. It is suitable up to 2,800 sq. feet of area. It has programmable thermostat. As usual it comes with auto ignition system.
According to reviews, this stove is very useful for large homes. The customer service support is to the mark. One person comments that, even with large fans, the sound is not disturbing. People feel the installation efforts are also minimum and are quite happy with the product. The quality and aesthetics are very appealing.
Pelpro PP130-B Pellet Stove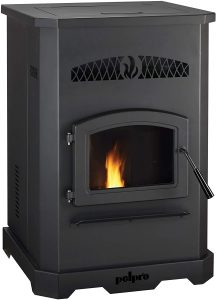 This is 50000 BTU pellet stove with the claim of up to 87.5% efficiency. The hopper capacity of 130 lb is quite huge. It has a self-cleaning firebox.  This is particularly suitable for owners who wish to reduce re-fuelling and cleaning frequency. The steel frame is quite sturdy and attractive. Reviews are very positive and people are happy with heating they get.
Napoleon TPI35 Pellet Stove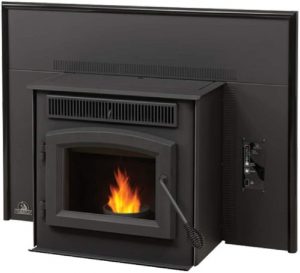 This is an insert type pellet stove. This economical insert provides up to 38250 BTUs of heating power and can heat up to 2,000 square feet. It also features a 45-pound hopper capacity, 30-hour burn time, handsome black iron door, and a 76.3-percent efficiency rating. The size 21.25W x 25.875D x 30.3125H in. is quite compact. The construction allows self-installation and Amazon reviews convey the positive response. One owner feels that the fans are loud.
Wiseway Non Electric Pellet Stove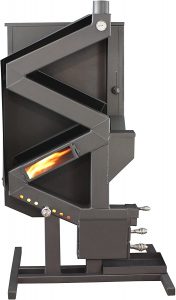 This pellet stove has a unique design compared to pellet stoves available in the market. It has 40000 BTU of capacity and suitable for homes up to 2000 sq. ft. Hopper size of 60 lb is quite large enough.
It has modern look with less floor space. It can be used as insert type or standalone floor standing type. Since it uses natural gravity pellet feed system, it requires no electricity. Moreover, since many mechanical parts are avoided, it requires less maintenance. It does not have auto-ignition, obviously. Therefore, it needs propane torch. The air flow can be increased or decreased by opening or closing of intake vents. As this stove does not use any electricity, fans are not provided. Heat is obtained from either radiation or convection. This stove is very suitable in the remote areas where frequent blackouts is a problem. The company claims the product to have 75% EPA certified efficiency. Users of this product say that this stove needs considerable maintenance to keep up the efficiency. Some users are not happy with the heat it produces and consider the money not spent well. One user claims to have experienced creosote formation in chamber. Since the feeding since is un-controlled one user experienced many pellets fall at the same time.
To summarize, wood pellet stoves are upgraded version of wood stoves. They have improved fuel efficiency had are considered environment friendly. The reason being wood is not cut especially to be burned but pellets are manufactured from compressing the wood dust waste. The waste is from sawmills or other wood working industry. These stoves are furthermore efficient because of automated auger system which determines itself if the stove needs more fuel. Continuous monitoring is not required and safety issues are also less compared to wood stove. Pellet wood stoves need very less cleaning and maintenance compared to typical wood stoves. Hence the stoves are very fit for buyer who is busy to do these chores and wants to deploy his/her time for quality activities. All said, these stoves need electricity for many of its equipment. Therefore, they are not suitable in areas where frequent electricity cuts are a problem. The wood pellets costly than normal fire wood.
There are many options and varieties of pellet stoves available in the market. The stoves are of various capacities to suit varied home sizes. The person may also select hopper extension if he/she wants to avoid frequent re-fuelling. The large hopper allows more pellets to be loaded at a time and hence the stove can provide heating for longer time. Before selecting a stove, buyer must first decide what he or she wants? Does he want aesthetics? Does he want automation and sophistication? Does he want clean burning? Does he want to avoid frequent loading, and maintenance? If the answer is NO, then person can go for normal wood stoves. If answer to all the questions is yes, then he must go for wood pellet stoves.  For those who still want pellet stove, but want to avoid electricity, Wiseway non electric pellet stove is an option.