Have you heard the saying- "History repeats itself"? Yes! You definitely must have. So currently, everybody is back to those age-old remedies, herbs, and exercises that were simplistic and environment-friendly. Organic food, yoga, meditation, etc. of earlier times is a part of our modern lifestyles again. Wood too was an essential means back in the earlier days. Recently, wood stoves are back in trend. People are switching the fireplace with an indoor wood stove.
There are 3 core benefits why people are opting for indoor and outdoor stoves nowadays. Firstly, they are a much affordable option compared to electric & gas burners. Secondly, they are environment-friendly. Thirdly, wood stoves create a warm ambiance that is extremely comfy during winters and those residing in snowy regions. Additionally, it is also multi-functional, unlike a basic fixed fireplace.
Now, there are various types of wood stoves available in the market. To help you pick the most suitable stove we have enlisted 8 exclusive cheap stoves- 4 indoor stoves & 4 outdoor stoves. Check them out before making the purchase. The all-inclusive product reviews will help you make the right decision.
4 Things to consider before purchasing a wood stove
You ought to know some important pointers of a wood stove to select the best one for yourself. Depending on your requirements, you first need to be sure about the stove's size and its heating ability. So, measure the space where you wish to place the wood stove and then choose accordingly. A smaller stove will cover a smaller heating area while a larger one will heat up a bigger space. If you are confused, best stick to the medium sized stove.
Let's have a look at the 4 essential elements that can aid you aid pick the right stove:-
Do you need the wood stove to heat the whole house or just a room?
It is very important that you jot down your precise requirements and expectations of a product before buying it. In the case of a wood stove, you should make up your mind regarding the heating you seek. The reason being that there are lots of wood stoves available in the market and they comprise of diverse features! You should buy a wood stove that fulfills your personal requirement rather than buying one which you saw a neighbor/friend's house.
Do you need the indoor wood stove to heat up your whole house?
If yes, then you ought to look for wood stoves that are designed to offer centralized heating. It would be the chief heater running to keep your whole house warm during cold winter days and nights. Point to note is that, the whole house heats up evenly when the stove placement is done correctly. It creates a comfortable evenly distributed warm temperature in the house.
The demerit of a central heating stove: It can be somewhat untidy! Moreover, when placed in a small/medium sized room, the fire burning in full blaze might generate smoky/woody odor.
Are you searching for a wood stove to warm up a room?
You don't have to buy a central room heating wood stove if you don't need it. There are lots of smaller wood stoves, designed specifically for heating up a specific room. Just make sure the installation is done appropriately.
Demerit: All the other rooms will be freezing as the stove is designed to heat just the room it is placed in! Everyone has to cramp up in the room with the wood stove to stay warm.
Is maintaining wood stoves tough? Will the logs spilling out of the stove make the living room look ugly?
Of course, you ought to do your bit with regards to maintenance. It's not too laborious.
As far as the worries related to "the sight of logs" in the stove spoiling your living room's décor, you can relax. You will find stoves where the logs are not visible and the ash doesn't spill. Yes! Wood stoves nowadays have been upgraded to look great and be tidy at the same time.
Smoke Emissions
You need to know the smoke emission limitation of the wood stove you decide to buy. This is due to the fact that all the catalytic and non-catalytic wood stoves are bound to abide by the compulsory smoke emission standard set by EPA.
The Smoke emission limits as per EPA are:-
1 grams of smoke per hour for catalytic wood stoves
5 grams of smoke per hour for non-catalytic wood stoves
There are several inexpensive wood stoves available in the market which are not designed according to the smoke emission standards set by EPA. You can check that by seeing whether the product is EPA certified or not. If they are EPA certified then it's guaranteed that they are built according to the smoke emission limitations and have passed the mandatory safety tests. For your personal safety, it is best that you buy only those stoves that have EPA certification.
Heat Output
The heat output of wood stoves is measured in British Thermal Units (BTUs).
Now, obviously, you might be thinking whether you need a high heat output wood stove for your household use. The answer is no! In fact, a wood stove having the range of 5,000 to 20,000 BTUs per hour is more than enough for an average house.
So, instead of opting for the high heat output stove, you can opt for an average one as the price varies. Higher heat output stoves are costlier.
Heating Capability
The heating capability of the wood stove depends on several factors such as:-
Climate: Yes, climate plays a key role in determining a wood stove's heating capacity. Thus, when buying a wood stove, keep in mind your location's climatic condition. As compensation, certain manufacturers will provide you with a stove having a large square foot range saying it will heat up the room.
Poorly insulated homes: Unlike the newly built houses, the older constructions were not well insulated. Therefore, old homes suffer heat loss. Therefore, your house might not warm as much as you expect it to. No use blaming the wood stove for that.
Wood: The type of wood used in the stove also plays a vital role. For instance, hardwood types like "maple" result in high heat output while softer wood types like "spruce" result in less heat output.
Thus, when measuring the heating capacity of the stove, take in all the above factors into consideration and then make your final decision.
Best cheap Wood Stoves reviews
Listed below are 8 cheap wood stoves. Each of the stoves comprises of detailed information to assist you in making your final pick. The features, pros, and cons of each stove will give you a better idea regarding the variety available in the market. You can choose the most befitting one.
---
Outdoor Wood Stoves
Have a look at the 4 top outdoor wood stoves that we have picked for you. Outdoor wood stoves are cheaper than indoor wood stoves. So, if you weren't considering this option before we would still request you to glance through them. Who knows, you might find a stove you like a lot at a very reasonable price.
Winnerwell Woodlander Cook Tent Stove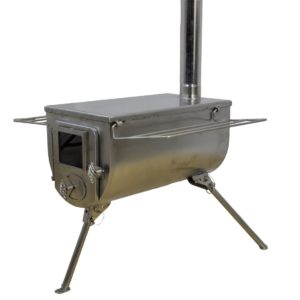 This simplistic design wood stove is pretty strong & durable. It's excellent for outdoor, owing to its easy portability. When going camping, you can carry it easily in your car. It's super handy to carry by hand. You can place it wherever needed during an outdoor party.
Features:
Made up of stainless steel
Uncomplicated assembling
Suitable for open flame cooking as well as for heating cooked food
Quite convenient to move from one place to another
Effortless transportation facility, as every part(flue & scooper), fit inside the stove itself
When folded, grates serve as handles
Detachable griddle plate cover
Glassdoor offers a cozy warm feeling to enjoy during winters
Weighs less than 30 pounds
What We Like
Inexpensive
Portable
Side racks/grates are very useful
What We Don't Like
There is no space inside the stove for heating water as the pipes don't nest together.
---
England's Stove Works Survivor "Grizzly" Portable Camp/Cook Wood Stove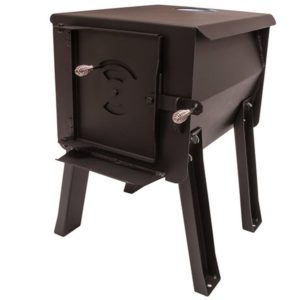 This outdoor stove is extremely durable. It is designed in appropriate size for portability and utility. It comes with a good cooking space and whenever you need to shift it to the car or a picnic spot you can bend the top edges to use them as carrying handles while the detachable legs fit inside the stove. The satin black finish not only gives the stove an appealing look but also requires low-maintenance.
Features
It's highly resilient as it is being built of fully welded 12 gauge steel
Weight about 63lbs
The firebox is 2.7 cu. Ft allows longer and equal heat distribution.
It can heat up a tent sized 16*24
Can burn wood throughout the night, for 8 hours at a stretch
Big flat top area for cooking convenience
No difficulty in transportation as detachable legs can be stored inside the stove
High-temperature Fiberglass door gasket offers effective longer duration burns
Good cooking area due to offset chimney pipe
What We Like
There is an additional protective feature offered by the ash lip. It makes cleaning the stove very easy.
The in-door air redirect & circular door damper not only helps in starting the fire easily but also allows to control the temperature as per requirement
What We Don't Like
The units are not designed for permanent outdoor use
The stove needs 4" diameter pipe which is not included
---
TMS Portable Military Camping Wood Stove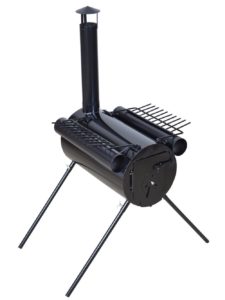 This is a very low price durable stove that serves in many ways. It can be your outdoor cooking stove, a potato baking device, a heater during winters and for outdoor shelters, a dryer for small wet cloths, and also a hand & feet warmer during chilly nights. So many utilities yet everything fit in within the stove making it super easy to carry wherever you wish. Check it out as it can be your 1 stop solution to multiple needs.
Features
Being built of sturdy rolled steels, this stove can last several years
It takes just a few minutes to set up the stove
It is a much safer option than an open fire.
The spark arrestor of the stove makes it extra safe.
The size is compact and can be carried in a car without any difficulty
Detachable legs, side tubes, stove pipes and tools all can be stored inside the stove making it very convenient to move from one place to another
Spacious cooktop makes cooking convenient
This stove can be used to burn wood, charcoal, compressed logs or any other combustible item.
What We Like
The cooktop comes with multiple functions. When it is not used for cooking it can serve to dry out gloves, socks or similar small cloths by rotating it outwards
There is a special provision for baking veggies and foil wrapped dishes on the cooking tubes present in both sides
What We Don't Like
The paint is not high temperature resistant.
The stove is somewhat heavy
---
US Stove BSK1000 Cast Iron Barrel Stove Kit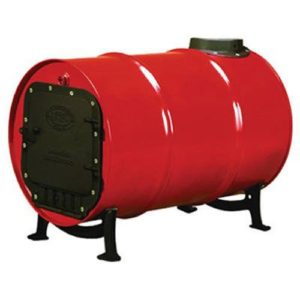 This one is a comprehensive stove kit that comprises of all the parts necessary to transform a 36-55 gallon steel drum to a fully functional outdoor stove. If you seek to create the most basic working stove for outdoor use which fits in your limited budget, this kit can be an excellent pick. For a bigger sized stove, you may create a double barrel stove by adding a second barrel stove.
Features:
Made out of cast iron, this kit is pretty strong and safe for use
Can befittingly convert a barell into a working stove
This stove building kit comes with legs, a door, a damper, a flue collar & the essential mounting hardware.
Suitable for outdoors as well as barns and cabins owing to its rustic look
Can conveniently heat up an 800 square foot space
What We Like
A superb option for those preferring a simple style
Low priced
What We Don't Like
Fitting in all the parts together is fairly difficult as the assembly is not appropriately designed
---
Indoor Wood Stoves
This section is devoted to 4 assorted indoor wood stoves for your convenience. Indoor wood stoves are a bit expensive compared to outdoor ones. The reason being that indoor stoves have to be built with extreme safety measures! This will ensure that no mishap occurs when using it for cooking or heating purposes indoors. So, paying a little bit extra to keep your home safe while being warm, cooking on it, and heating food can still be an economical option when compared to gas or electric stoves. To know whether the indoor stove you wish to buy is constructed keeping in mind all the safety requirements just look if it is EPA certified.
Listed below are the 4 best and most affordable indoor wood stoves for you:
---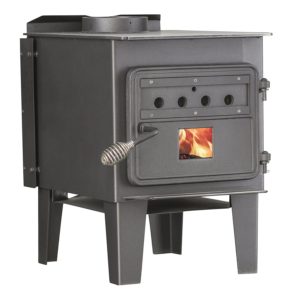 This is a simplistic chic looking wood stove designed for indoor use. The fact that it meets the EPA standards can give you some relief about its safe construction. If you are looking to own a stove that can beautiful heat up about 1500 square feet area then this one is a perfect choice. To assist in heat radiation in the room, the stove's firebox has been lined with firebrick. It also aids in burning the wood for a longer duration.
Features
Well-built, having steel legs, 6" top mounted flue, and huge door
The stove is EPA certified
It comes with a blower
Smoke generated is either nil or very less
Long lasting
Suitable for heating 1500 sq feet area
68,000 BTU's
It weighs about 220 pounds
What We Like
It cranks out the heat
The simple design looks smart
Sturdy construction
What We Don't Like
It does not have a front damper
---
Vogelzang TR007 Ponderosa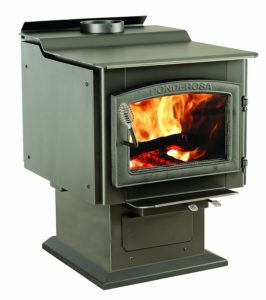 This particular indoor wood stove comes with a blower. It is designed to accentuate your home's interior look while being extremely useful. The stove's cast iron door has a huge ceramic window. As you sit in the room in a chilly winter night, this stove will not only generate cozy warmth but also offer you a gorgeous fire view. The huge capacity of the stove along with its long burn time at such a reasonable price is bound to impress you.
Features
A reliable strong wood stove made using heavy gauge & durable steel plates
The stove is light owing to the high-speed blower that comes with the stove
It's airtight feature and safety clearance has earned it the EPA certification
For the convenience of remove ash easily, the stove has a huge ash drawer.
Firebrick lining heightens the fuel efficiency and distributes the heat equally
What We Like
The stove has a fuel efficiency of 82%
The ash drawer is huge
Can hold wood up to 30 pounds which is great
Can burn continuously for 14 hours
What We Don't Like
The stove doesn't have a grate
---
HiFlame HF706B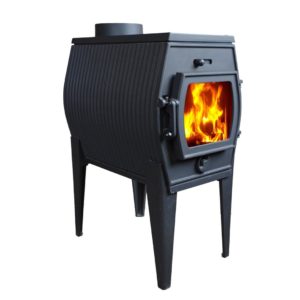 This is a fabulous looking durable stove which can be used both indoors and outdoors. The sleek curvaceous design makes it stand out from the rest of the straight-cut stove designs. The black finish adds more luster to the overall stove's finish. It's a very compact stove which won't take up much space in your room. Being made up of cast iron material, this stove is pretty strong and would last you many winters.
Features
Robust cast iron constructed the reliable stove
Compact design saves storage space
The stove has a non-catalytic clean-burning system
The design is air washed for a clean glass
It is suitable for use both indoors and outdoors
Weighs about 155 lbs
Logs as long as 15'' can be used
Has a wave heating panel
What We Like
Its compact design and low emissions is a great advantage
What We Don't Like
Being small in size it cannot offer long duration of heat
---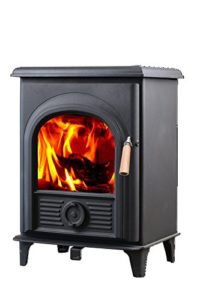 This is a brilliant compact European style indoor stove! Wish to make an impact with a classy multi-functional wood stove placed in the living space? This can be the one. Besides being extremely appealing this stove is also very strong as it is made up of cast iron. The clean burning system of this stove leaves no unused wood. This is essentially made for those people who need a small-sized good quality wood stove. This also has a large ceramic glass window which offers a beautiful fire view while warming up the room.
Features
This stove has 85% fuel efficiency
Generates a clean burn
Can heat up 800 square feet area
It is a very durable stove as it is made up of sturdy cast iron
Compact size doesn't take up too much space
Suitable for heating small rooms or cabins
Has a huge glass window on the door
What We Like
It uses 2 dampers which aids to start the fire easily and also maintains it for a longer duration
EPA certified
What We Don't Like
The stove interior can accommodate smaller logs only. Therefore, when using this stove, the logs have to be selected carefully
The height of the stove is slightly less
Somewhat pricey compared to other indoor stoves
---
So, which one did you like? Did you take a good note of the pros and cons of each stove? Have you decided whether you are going to purchase an indoor stove or would opt for an outdoor wood stove?
The prices are pretty reasonable! Are you surprised? If you had a misconception that wood stoves are an expensive product, your opinion has absolutely changed now!
After all, chilly nights turned warm and cozy is extremely pleasurable. Again, camping trips always need a stove, warmer and cloth dryer! So an outdoor portable wood stove with a dryer can be a smart 3-in-1 buy.
So, give your home a modern yet rustic decor with a wood stove. It is a useful product available at an affordable rate. Hopefully, the important elements and elaborate reviews on both indoor and outdoor wood stoves would be of use to you when deciding on purchasing the befitting stove.
Ultimately, the choice is always yours!